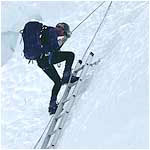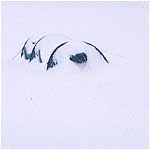 Left: Thomas at Icefall. Right: The tents.
The expedition is composed of friends who are all trying their own special thing. Most of us have met before in different parts of the Himalayas, or have come along as friends of friends from Europe, Asia, South and North America. Here follows a quick presentation of some of them. (A later biography on all will follow in the diary when we are all assembled).



Tina Sjögren, Sweden, (Expedition leader)
Tina and Thomas always climb together - usually in small, budget expeditions. After turning around only 95 meters from Everest summit last year, they have been preparing harder than ever for this, their fourth attempt on Everest. Tina was born in former Czechoslovakia, from where her mother fled in 1968, alone with Tina and her small brother. Tina, now 39, has always been quite adventurous. She met Thomas 19 years ago. They went into business together and Tom joined Tina on her extensive travels around the world. She is a happy but restless female. "I'm curious and romantic, that's my drive. Pursuing dreams, mine or others, is really important to me".

Thomas Sjögren, Sweden, (Expedition leader)
Thomas 39, is educated in Economics and has always loved sports and the outdoors. From a background as a competitive dingy-sailor and figure skater (!), Thomas today trains two hours daily to prepare for the climb. Aerobic training and tailor-made strength building prepares him and Tina for the long and hard days on the mountain. Thai-boxing keeps their mind focused during stress. T&T also have a keen interest in computers and technology which (together with their business experience) laid the foundation for this years expedition.

Babu Shirri Sherpa, Nepal
Babu 33, is a very low key, soft man. But the drive within him is none of this. Among his other ascents, summiting Everest 7 times without oxygen puts him in the front of today's alpine climbers. Babu has 6 kids and wants to build a school in his village since he grew up without schooling himself. Babu now want's to try to sleep one entire night on Everest summit without oxygen. Spending such a long time on Everest summit without supplementary oxygen is considered not possible by the medical knowledge that we have today. But Babu is a pioneer with his own strong will. He still want's to give it a try simply because he feels that it can be done.

Tommy Heinrich, Argentina
Being the first Argentinean to summit Everest in 1995 (only 2 climbers summited from the south side that year), Tommy 36, put his own small mark in history. Today, Tommy is a skilled adventure documentary filmer with Alpine ascents as his speciality. We met last year on Everest and became friends. Like Babu, Tommy too is a humble, low key type of person. Tommy will climb with us to document the expedition on film.


And our friends:



Michael Strynoe, Denmark
Michael, 35, is a wild Viking from Denmark. Michael is strong and doesn't use sherpas or oxygen. Previously climbing Cho Oyu and Makalu, he is now back for his second attempt on Everest. Michael is a noticeable character, everyone who has met him would agree. He has a strong will, short temper, good heart and an eye for pretty girls. One special has taken his heart though; his beautiful and likewise strong willed girlfriend Renee in Denmark. We really wish Michael success with his climb - for he has certainly worked very hard to deserve it. http://www.sporten.tv2.dk/everest

Inaki Ochoa, Spain
This is a quite, charming and very fast climber. Inaki, 31, has been climbing most of the Himalayan giants. Skilled, self sufficient and strong, he to is going for Everest without oxygen. Like surprisingly many other climbers, Inaki also has extensive schooling in martial arts. Today, he climbs almost non-stop around the world.

Heidi Howkins, USA
Not all of us has yet had the pleasure of meeting Heidi, 31. We did read some of her fun and articulate scripts on the net though (do check her out on the MountainZone and Outdoor-sites - "letters to mom" and "choosing a climbing-partner"). Heidi has joined or led expeditions onsuch serious mountains as Gasherbrum II, Kanchenjunga and K2. This time, she will make one of those very rare female attempts to climb Everest without oxygen.
Also joining us will be Christian Binggeli, Switzerland, Robert JR Model, USA. More on these guys in the later update reports.
Our mexican friends: www.telecomm.net.mx/everest_ico
Check out this interesting site and other expeditions at www.everestnews.com and www.everestextreme99.org